Promotional Products from Flory Design
We want to help you get your brand out there. With us, you have designers who knows all about branding and who will make sure your brand is maximized on any product you choose.
You order it, we'll take it from there!
Or just call or email and we can help you find what you need.
Featured Item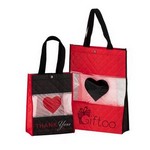 The Loveable Bag - 12"x16"
This bag can be ordered as shown or fully customized to meet your specifications creating a unique bag design for your clients. Custom options include : bag style and size, handle, closure, logo, fabr...